Wild Readers is a book club for adults that encourages readers to step outside their comfort zones. The club meets once a month to discuss current books as well as classics and sometimes steps outside the norm (graphic novels anyone?). This judgement-free zone will allow readers to discuss what they love about a particular genre as a whole as well as specific titles that the group reads together.
Copies of books are available for checkout at the library front desk usually a month in advance.
April's Book
Comic books and graphic novels continue to prove their popularity across age groups and offer a fresh new look into old favorites.
The country doctor had come to 221B Baker Street, the famous lodgings of Sherlock Holmes, with an eerie tale—the legend of the Hound of the Baskervilles, the devil-beast that haunted the lonely moors around the Baskervilles' ancestral home. The tale warned the descendants of that ancient family never to venture out on the moor. But Sir Charles Baskerville was now dead—and the footprints of a giant hound have been found near his body. Would the new heir of the Baskervilles meet the same dreadful fate? Sherlock Holmes and his faithful friend, Dr. Watson, are faced with their most terrifying case in this wonderful classic of masterful detection and bone-chilling suspense. (Amazon)
Pick up a copy from the library today!
Previous Club Picks
Winston Smith, a member of the outer Party, spends his days rewriting history to fit the narrative that his government wants citizens to believe. But as the gap between the propaganda he writes and the reality he lives proves too much for Winston to swallow, he begins to seek some form of escape. His desperate struggle to free himself from an all-encompassing, tyrannical state illuminates the tendencies apparent in every modern society, and makes vivid the universal predicament of the individual.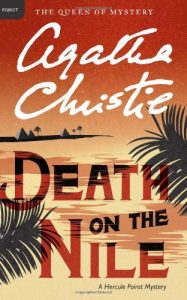 Young, beautiful, and rich, Linnet Doyle sparks the interest of Detective Hercule Poirot when she and her new husband take a cruise on the same ship as he, and he senses trouble in paradise.