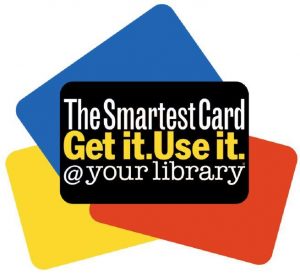 Get a Library Card!
The Guymon Public Library and Arts Center free card is available to any person who meets at least one of the following qualifications: 
Resides in Texas County (including Texhoma) 

Is employed by a company or organization that owns property in Texas County (including Texhoma) 

Attends an accredited school located in Texas County (including Texhoma) as an enrolled student and can present student ID.
A GPL card provides access to use public computers, electronic services and resources (i.e. eBooks, databases, etc.), and to borrow materials from the library. An individual may register at the library with accepted proof of address. Any inappropriate use of one's library card or any other person's card may be cause for revoking privileges to use library resources, including but not limited to public computers and/or borrowing materials. 
Nonresidents of Texas County can acquire a library card at a fee of $10. All above requirements of address, etc. still apply.
Residents Applying for a Library Card
To apply for a Guymon Public Library and Arts Center card, an applicant must meet the qualifications outlined under General Statement.  
Adults must provide a valid photo I.D. and accepted proof of address.  

The name and address provided to verify your identification must match the information entered on the application.  

Identification must be presented when a change to the borrower's address is made & when replacing a lost card. To ensure that continued service is provided, cardholders should report change of name or address information promptly.
Non-Residents Applying for a Library Card  
With proof of employment, school registration, or ownership of property in Texas County (including Texhoma), a patron may obtain a free library card. 

If the patron's address is outside Texas County, proof that person works, attends school, or pays taxes in Texas County will be required. Proof may be provided by presenting documents at the Guymon Public Library and Arts Center or scanned and emailed to

adult.librarian.gpl@gmai.com

. 

The non-resident cardholder must present proof of eligibility for free card annually. These library cards will expire in one year.  
Minors 17 and Younger  
To receive a card with full borrowing privileges, parent or guardian must be present for approval. Parents/guardians are responsible for the lost or damaged materials borrowed by their children.  

If a parent/guardian is not present, a child may receive a 3 to Go card.  

Restrictions to the 3 to Go card include:  

The card allows only three items checked out at a time. Only when an item is returned, will a minor be allowed to check out another item.  

Unaccompanied minor cards expire on the child's 18th birthday.
Educational Institutions 
The purpose of this card is to allow employees of educational institutions to enhance curriculum using library services. This card provides an extended checkout period of 42 days with no renewals for library materials. The educational institution card is not exempt from regular fines and fees. Educational institutions are required to abide by the following:  
Elementary, middle, and high school and day care centers, located in Texas County including Texhoma are eligible to apply for an educational institution card which will be issued in the name of the institution  

The educational institution card may not be used as a personal card.  

Multiple cards may be issued to an institution.  

The educational institution card has a 50-item limit for materials that can be checked out on the card at any one time.  

Any abuse in the use of this card may result in loss of library card privileges.
Renewing a Library Card 
Regular library cards expire after three years and patrons will need to verify any changes to contact information before renewal.
Cardholders will be notified by text, phone call, or email three days before their chard expires. 

Expired cards must be renewed before the cards can continue to be used for borrowing materials, downloading e-content, or accessing the library's online databases.  

The customer does not have to replace an expired card if it has not been lost or misplaced.  

Cardholders from areas outside of Texas County, who work, attend school or pay property taxes in Texas County may be asked to verify their information annually to ensure continued eligibility.  

Cards issued to non-resident customers must verify eligibility at shorter intervals, require similar identification and must show proof of address in person.

Educational institution cards expire after one year and require authorization by institution upon renewal in person. 

Proof of address will be required if there has been a change of address before a card will be renewed.
Parents may cancel their child's Unaccompanied Minor card by phone.