Mia Scozzafava – Adult Services Librarian
Announcements
September Events for Adults
---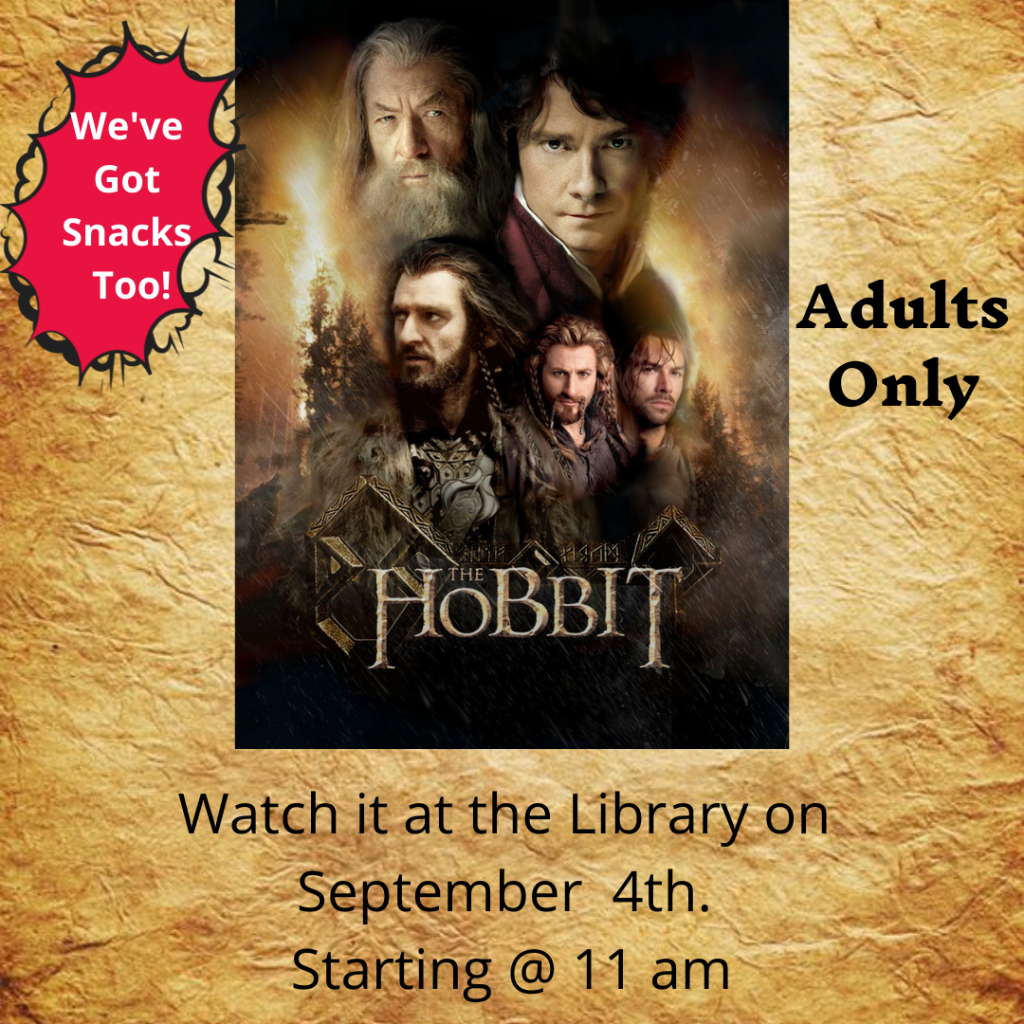 Hobbit Movies: Saturdays September 4th, 18th and October 2nd. Join us and go on an adventure with Bilbo Baggins through Middle Earth. Movies start at 11 all three weekends. Snacks will be provided.
Hobbit Movies: Sábados 4, 18 de septiembre y 2 de octubre. Únete a nosotros y ve a una aventura con Bilbo Bolsón a través de la Tierra Media. Las películas comienzan a las 11 los tres fines de semana. Se proporcionarán refrigerios.
---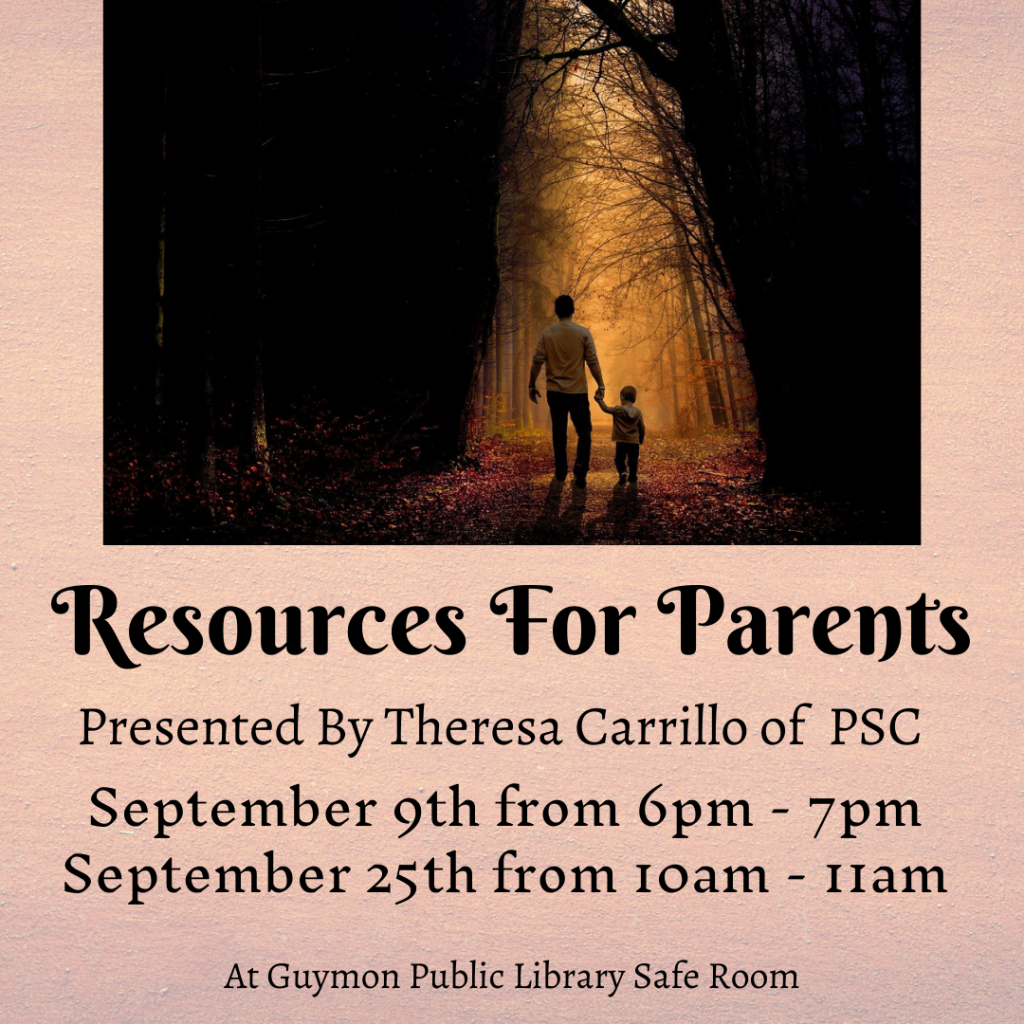 Parent Resources: If you're struggling to meet all of your child's needs, or maybe you just need a little help, come to our Parent Resources event. We're partnering with the Panhandle Services for Children to help you discover the possibilities of what are available for you. Theresa Carillo will be presenting before we open the floor to questions. We're hosting two different events to help accommodate all schedules. The first will be on Thursday, September 9th from 6-7. The second will be on Saturday the 25th from 10-11. This last year has been hard for all of us. Let's work together to take care of our children.
(Note: In order to ensure that everyone can pay attention to what's being offered, please leave your children at home for the event.)
Recursos para padres: Si está luchando para satisfacer todas las necesidades de su hijo, o tal vez solo necesita un poco de ayuda, venga a nuestro evento de Recursos para padres. Nos estamos asociando con los Servicios panhandle para niños para ayudarle a descubrir las posibilidades de lo que están disponibles para usted. Theresa Carillo hará una presentación antes de que abramos la palabra a las preguntas.
. Estamos organizando dos eventos diferentes para ayudar a acomodar todos los horarios. La primera será el jueves 9 de septiembre del 6 al 7. La segunda será el sábado 25 de 10-11. Este último año ha sido duro para todos nosotros. Trabajemos juntos para cuidar a nuestros hijos
(Nota: Para garantizar que todos puedan prestar atención a lo que se ofrece, deje a sus hijos en casa para el evento).
---
Yoga: This month's theme is adventure! We'll be trying out all sorts of different poses, going on a journey from one to another. Bring your mat or a towel and we'll see you there!
Yoga: ¡El tema de este mes es la aventura! Vamos a probar todo tipo de poses diferentes, yendo en un viaje de uno a otro. ¡Trae tu colchoneta o una toalla y nos vemos allí!
---
Craft: This month in Crafterwork we're going to be creating a dotted letter mandala. You'll start by drawing your favorite letter on a piece of paper and then covering it in a mandala of your own design. We'll meet up in the Classroom this month, so we hope to see you there on Tuesday, September 21st.
Craft: Este mes en Crafterwork vamos a crear un mandala de letras punteadas. Comenzarás dibujando tu carta favorita en un pedazo de papel y luego cubriéndola en un mandala de tu propio diseño. Nos reuniremos en el Aula este mes, así que esperamos verte allí el martes 21 de septiembre.
---
Adulting 101 – Whether you're looking for your first job or you're searching for something new, we're opening this class to everyone 16+. Learn how to write a resume that grabs attention and make the most of your skills for landing your next job. Join us on September 20th from 4-6. (It's ok if you come after the program starts, what matters is that you come!)
Adulting 101 – Ya sea que esté buscando su primer trabajo o esté buscando algo nuevo, estamos abriendo esta clase a todos los que tienen más de 16 años. Aprenda cómo escribir un curriculum vitae que agarre la atención y haga la mayor parte de sus habilidades para aterrizar su trabajo siguiente. Únase a nosotros el 20 de septiembre de 4-6. (Está bien si vienes después de que comience el programa, ¡lo que importa es que vengas!)
---
---
---
---
Blog
Coming soon