From the Archives:
Written by Miranda Gilbert, Archivist, with the use of the Guymon Public Library's newspaper archives dating back to the 1880s, and the Pioneer Showcase Archives. 
Working in Genealogy and with Local Archives I receive calls and visitors from all over the USA hunting down information. Join me as I research and explore stories of local history including the people, places, buildings, organizations, and businesses in and around Guymon from pre-statehood to modern history.
Bill Beaman's Drag Strip, Cowboy Cleaners, & Coaching the Elks Boxing Club
ca. 1960s – 70s
B&B's Drag Strip located northwest of Guymon, OK, on US. Hwy 64 was a popular place for racing action on Sundays in the 1960s and 1970s.
The drag strip was paved, had lighting, trees, a concession stand, and was owned and operated by Bill Beaman.  Beaman was a Guymonite and businessman also owning Cowboy Cleaners 1209 N. Main where Bank of the Panhandle now exists. The building was owned by Howard Deakin, who leased the building to Beaman. (The cleaners was damaged in two fires a few years apart, one started from lint buildup in a electric clothes dryer in Dec. of 1969, and another was due to a steam dryer coil explosion and an electrical junction box igniting clothing in Dec. of 1974, according to the Guymon Daily Herald.)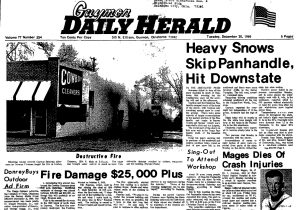 The drag strip was an attraction not just for locals, but also for competitors from Texas, Kansas, and other parts of the state of Oklahoma. Each class would race in elimination rounds to see who would end up the top street eliminator and the top stock eliminator. Classes of stock racing included D stock, E stock, E stock automatic, F stock, G stock automatic, I stock automatic, and J stock automatic. Street class racing included B altered, B modified, C modified, C gas, D gas, D modified, E gas, F gas, J gas, J super stock, J super stock automatic, K stock, L stock, M stock, N stock, O stock, and P stock. ("Cook, Hass Win Top Eliminators at B&B", Guymon Daily Herald, June 24, 1969)
According to memories of those who enjoyed the strip, the far end was rough and potholed, as were parts of the track. The strip was eventually closed and the lights removed, making it harder to locate today. It was possibly located north of CD Alexander's horse facility on the south side of US 64 just passed the bend in the highway north of Guymon, according to some accounts.
Beaman was also well-known for starting the Elks Boxing Club in 1954. Later named the Guymon Boxing
Club, Beaman coached many for nearly 20 years and hosted tournaments at the fairgrounds with fighters from as far as Lubbock, Texas. Guymon fighters brought back state titles which at the time were earned at the Kansas-Oklahoma State Tournaments, a preliminary to the National Golden Gloves Championship. Beamon took several to compete for Golden Gloves, and a few won on the regional level. While coaching boxing, Beaman would also set up benefit matches in which money raised was given to the group then known as the Panhandle Area Council for Handicapped Children. Beaman was not just known for helping the Council with expenses, but for also helping the local boys find a "good clean sport in which to participate." ("Guymon Boxers Down Hutchinson", Guymon Daily Herald, Tues., Feb. 4, 1969)
In March of 1977 Beaman was recognized by the City Council with a citation for his outstanding citizenry while working with youth via his creation of the boxing club. According to an article in the GDH listing his outstanding work, Beaman led the financing of the boxing club and all their travels to tournaments. He is quoted as saying, "I don't know how to thank you, but you know I have never worked with a boy yet who hasn't already paid me back." (Guymon Daily Herald, March 9. 1977)